Some Letters From Partners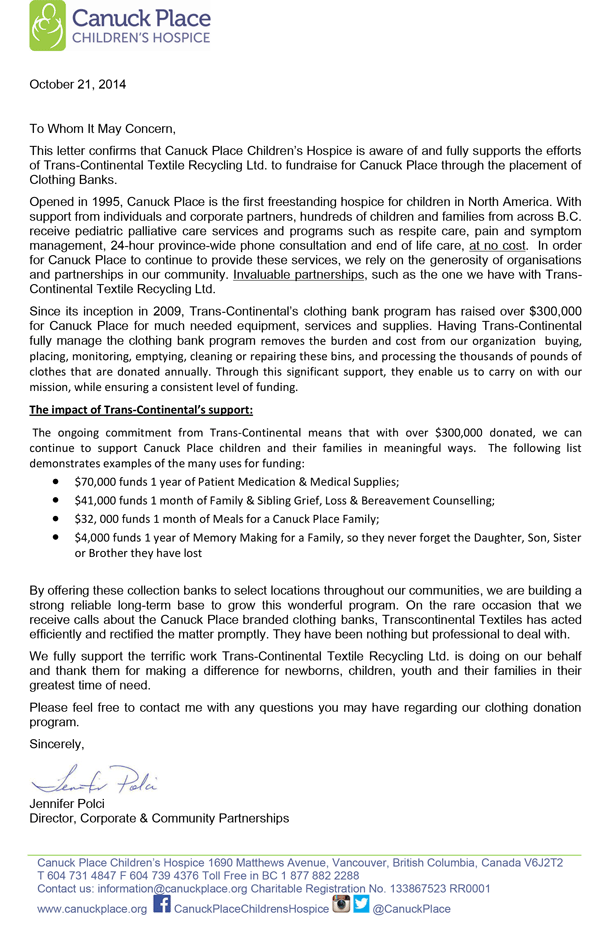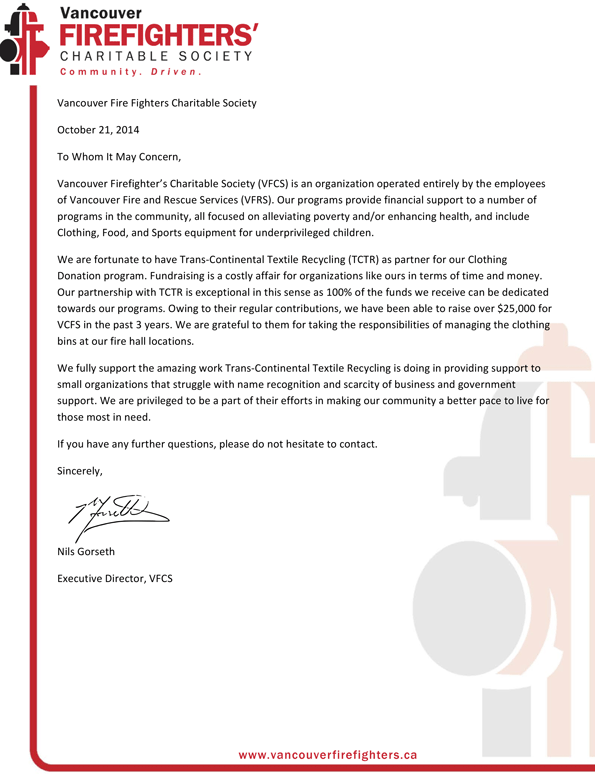 The BC Centre for Ability (BCCFA) is writing to express the value of the partnership with Transcontinental Textiles Recycling. As a part of their charitable donations program we receive approximately $70,000 a year. This amount is a significant contribution to the programs and services at the BCCFA.
The BC Centre for Ability is a not for profit organization that provides programs and services for children, youth and adults with disabilities. We offer therapeutic services to children with disabilities for purposes such as helping toddlers with disabilities to crawl, say their first words and swallow, helping children and youth with disabilities to express themselves through social-emotional developmental skills, helping youth and adults with disabilities to discover a career path and find employment.
The BCCFA believe that given the right support, people with challenges can discover their potential and trust in their own ability to overcome obstacles and reach their dreams. The funds from Transcontinental Textiles Recycling contribute to reaching the potential, the ability and the dreams of
our clients.
Yours truly,
Audrey Kwan
Manager, Communications
BC Centre for Ability Foundation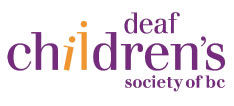 The Deaf Children's Society of BC is a not-for-profit agency providing early intervention services
for deaf and hard of hearing children (birth to age 5) and their families. We offer social work
services, in-home and community-based speech and language support, provincial outreach,
and have the only licensed preschool in the province that uses sign language as the language
of instruction. We provide families with vital knowledge and skills for understanding deafness
and the issues related to communication and education for their children. Families have
developed strong and enduring bonds, and for 30 years, Deaf Children's Society has helped
them do this.
Our success with our clients requires strong programs and consistent service provision. This
requires support from various government funders, but it is never enough. We are fortunate to
have an ally in the Trans-Continental Textile Recycling Company, whose clothing donation
boxes provide us with a source of income monthly that helps fill in the gaps where other
contracts, donations and financial assistance fall short. We often receive calls asking us for
locations of these blue-bins for they are well-known all over the lower mainland: they allow the
citizens to relieve themselves of clutter whilst supporting four important non-profit agencies that,
in turn, serve the residents of the province. It is a win-win situation, and its value cannot be
underestimated.
It is the sincere hope of the Deaf Children's Society, and the other agencies that benefit, that the
City of Vancouver will continue to allow the Trans-Continental blue bins to be placed in various
locations in the city. Without the funds generated by these donation bins, we are unable to
continue to expand, revise, and improve our programs to meet the changing needs of our
clients.
Your attention to this important source of funding for this agency is appreciated. Should you
require further information about how the Trans-Continental Recycling Company helps us, and
others, please do not hesitate to contact me at jspringford@deafchildren.bc.ca.
Sincerely,
Janice Springford, M.Ed., M.A.
Executive Director

On behalf of School District No. 40 (New Westminster), I am writing to express our support for Transcontinental Textile Recycling Ltd's Textile Recycling Bin Program. In the spring of 2011, I was invited to attend a meeting with Matthew Bruinink from Transcontinental Textile Recycling Ltd by our local Fire Department who knew that I had been struggling to secure funds to feed hungry students.
After listening to Matthew, I viewed the program as a win – win for all involved - an opportunity to teach students about recycling; a way to support local merchants in developing countries; and, most importantly for me to feed our hungry kids. Our School Board, however, was weary of the initiative and didn't initially approve the program. That was until one of our School Board Trustees paid a personal visit to Transcontinental's operations in Surrey, and was so impressed by them that he encouraged the Board to approve a pilot that saw the placement of four textile recycling bins on school sites.

Through the pilot we planned to evaluate the program, and expected to deal with problematic issues that arose, and ensure that the program did not become cumbersome for our schools or for the School District. None of this, however, was even necessary as the pilot has been a resounding success with Transcontinental immediately responding to any issues that arose (i.e. graffiti, waste left around the bins, over flowing bins, etc.) and no complaints from any of our school sites. It has been one of the easiest fundraising activities I have ever been involved with. The community has also embraced the program, and we have been able to raise $2,800 to support food and nutrition programs throughout our School District
I suspect this number would have been even higher, if we were not in the middle of a teacher's job action which limited our promotional abilities, and had one bin that didn't do as well as the others and is now in the process of being moved to another site. I cannot say enough about how easy participating in this program has been, and would highly encourage you to get involved. When you think about it, when will you ever be provided with an opportunity to raise money for a good cause without actually having to ask people for it!
Sincerely,

Betina Ali
Community Program Development Officer
School District No. 40 (New Westminster)